Key features
ROI and traffic optimization
Click fraud protection on ad networks
Reliable A/B split-testing of landing pages
Content optimizing for further monetization
Advertising sources
50onRed
7Search
ADAMO
Adblade
Adcash
AdColony
Adperium
Advmaker
AdWorldMedia
Admob
AdRoll
AdSupply
Adnium
Advertise.com
Advertising.com
Airpush
Amazon Ads
Appflood
Avazu
Bing Ads
Bidvertiser
Blindclick
BuzzCity
Content ad
Chartboost
CNET Content Solutions
CPMoz
Dianomi
DNTX
Doublepimp
Earnify
Easy2
Epom Market
EroAdvertising
Etarg.ru
Exoclicks
Facebook Ads
Flix Media
Google Adwords
Go2Mobi
Gravity
Gunggo
InMobi
Instagram
Instinctive Ads
Ligatus
JuicyAds
LeadBolt
LeadSense
Lead Impact
LinkedIn
LinkSmart
LookSmart
MarketGid
Marktplaats
Maxvisits
MillennialMedia
Media Traffic
MGID
MobiAds
MoPub
Native Ads
Nativly
NewsCred
Nster
NTENT
Octobird
Onespot
OpenX
Outbrain
Perfect Audience
Perfect Market (Taboola)
Plenty of Fish
Pinterest Ads
Plista
PlugRush
PocketMath
Polar (MediaVoice)
PopAds
PopCash
PopMyAds
PopWin
Popunder.net
Propeller
PropellerAds
Rapsio
RealGravity
Redirect.com
Qwaya Ads
Reporo
Revcontent
RevenueHits
Revisitors
SelfAdvertiser
SimpleReach
Sitcomads
SiteScout
Shareaholic Content Amplification
Skyword
StackAdapt
StartApp
SynupMedia
Taboola
TapSense
Target.My.com
TikTok
Traffic Broker
Traffic Factory
Traffic Force
TrafficHaus
Traffic Holder
TrafficHunt
Traffic Junky
Traffic Shop
Traflow
Trellian
Propel Media
Twitter
Unity Ads
VK.com
Wigetmedia
Vimmy
Vungle
WebCollage
WWWPromoter
Yahoo Gemini
Yahoo
Yandex
Zemanta
ZeroPark
Technologies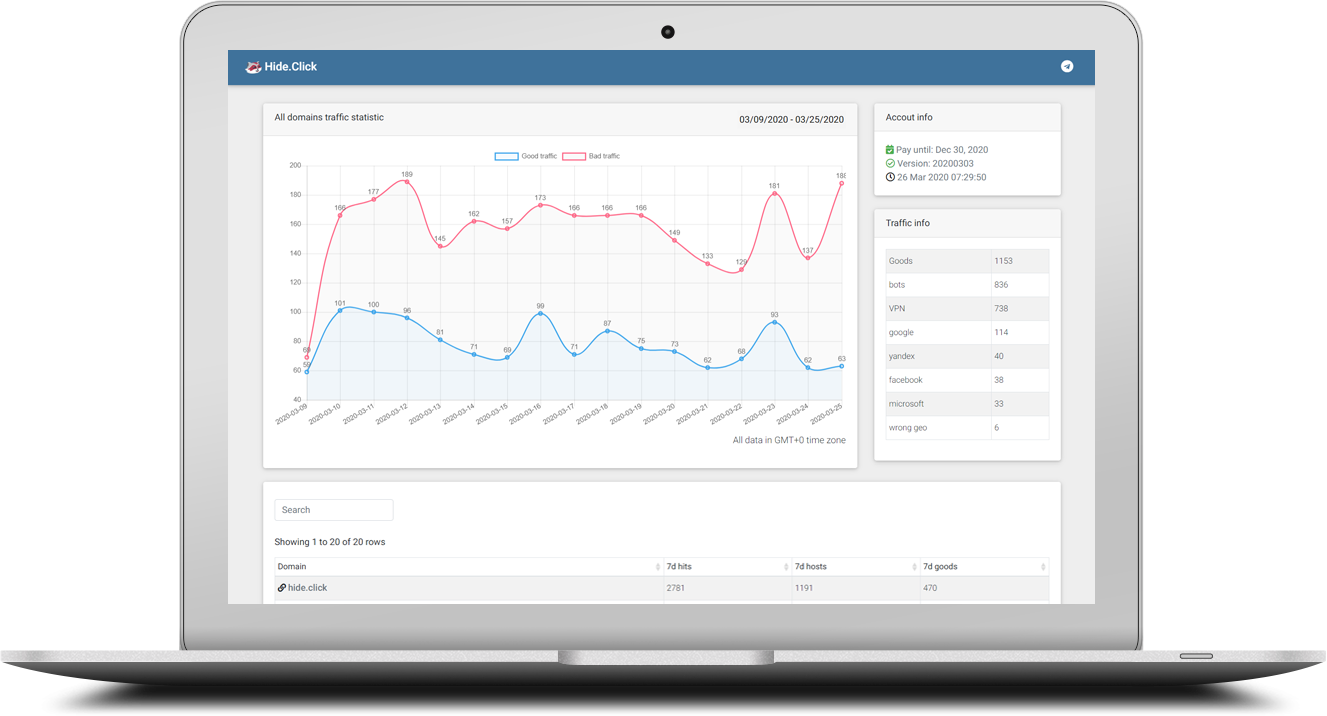 PHP/JS
Use your own websites or website builders. No technical skills needed. Our quick, intuitive setup script will have you up and running in a minute.
Private CDN
We ensure reliability and faster response times. Real-time database statistics. Reduce traffic loss and improve site performance.
Machine Learning
Each query is analysed using 900+ parameters of billions of database queries. Get high-quality traffic, low CPL, and high ROI.
No limits
Unlimited amounts of traffic, campaigns and domains. No configurations for new domains needed. Extend your new domain name without wasting time and money.
Last 24h statistics
719
Ongoing campaigns
237 261
IP status changes
0.05s
Average response time
2M+
Quantity of queries
A free 3 day trial
Use the unlimited 3 day trial period to evaluate all features of our service in practice.
Tutorial videos
Our available tutorials show all work features in detail.
PHP/JS
Choose your own convenient integration option.
Recommendations/Beginner's guide
Are you a beginner and just starting out in arbitration? We have prepared a comprehensive beginner's guide for you.
60 seconds setup!
Sign up

When signing up, you will automatically get the unlimited 3 day trial period.

Adjust your script

A convenient constructor allows you to configure all the necessary parameters.

All set!

Test your configuration settings and get started.
Tariffs
Trial

3 days

Standard

30 days

Advanced

30 days

Professional

30 days
PHP integration
JS integration
Android/iOS SDK
API access
Number of clicks
Domain limit
Campaign limit
IPv6 support
Any traffic sources
Hack resistance
Realtime database update
Bots protection
VPN protection
Proxy/socks blocking
Spy services blocking
Residential proxy blocking
Custom plugins
Dedicated servers
Commercial use

Price:

$0

$145

$245

$1495+
Our clients
"A short feedback. The 10-day trial went successfully and today I've bought the plan for a month."




- A happy client
"Cloaking does the job. The live support always helps and tells what to do. They follow the client's preferences and crank the things up. It's amazing!"



- A happy client
"We've been working as a small team since October and we've got only positive impressions from the product. Bots blocking works well. If any questions came up or something was unclear, the live support was really quick to solve all the issues. Thank you for this convenient and easy-to-use product)."

- A happy client
Prev
Next